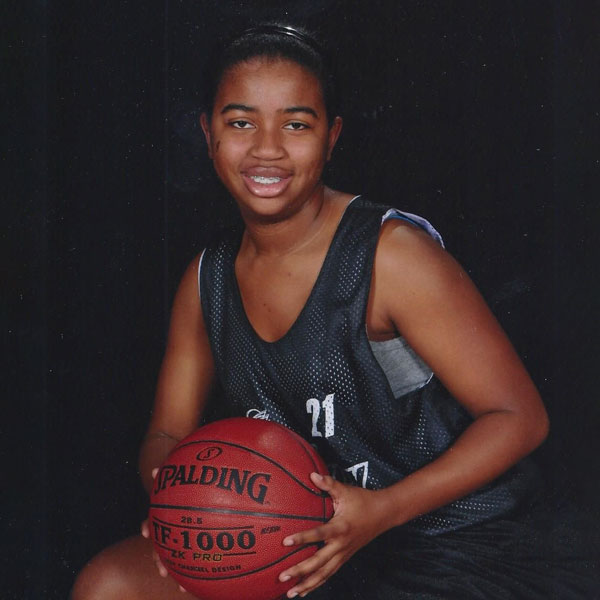 When a beloved friend, sister, granddaughter, niece and true hero was diagnosed with a life- threatening condition, her life and the lives of everyone who knew her changed. At 14 years old, Danielle Hudson was diagnosed with pontine glioma, a rare and normally inoperable tumor on the brain stem—the deadliest of all childhood cancers. The cancer was unique and ruthless, but she faced it with unbelievable faith and courage. Prior to her illness, Danielle was an honor student and dedicated athlete. She continued to attend school and sporting events throughout her struggle, and she never passed up an opportunity to support her friends. To celebrate and honor her spirit, the basketball court at her school was renamed, "The Danielle Hudson Memorial Gymnasium" and her #15 jersey has been retired. 
During Danielle's travels around the country to several of the nation's top medical research hospitals in search of a cure, she literally changed lives—engaging and uplifting the spirits of the patients and families she met, as well as doctors, nurses and medical staff. Though Danielle left each facility still having incurable cancer, she left all those she met with her unforgettable smile. Always concerned about the happiness of others, Danielle noticed during her travels that hospitals were generally structured for two age groups — older patients and very young patients. Being in hospitals constantly herself, she wanted to create a more positive environment for teen-aged patients with cancer … a place where they could laugh again, participate in activities with friends—and feel more like normal. And so, Hudson Heroes was born.
The Hudson Heroes Mission
Hudson Heroes is on a mission to raise money for pioneering cancer research that will one day stamp out cancers like the pontine glioma Danielle battled, which has a 99.9% fatality rate, and other pediatric cancers that are devastating the lives of so many kids and their families, friends and communities. Today, we are committed to providing financial support to the cancer research initiatives for:
Dr. Alfredo Quiñones-Hinojosa (Dr. Q), Mayo Clinic
In addition to funding research, our ultimate goal is for Hudson Heroes teen volunteers to go into local treatment facilities to provide non-medical services to teens fighting cancer.